Some inspirational messages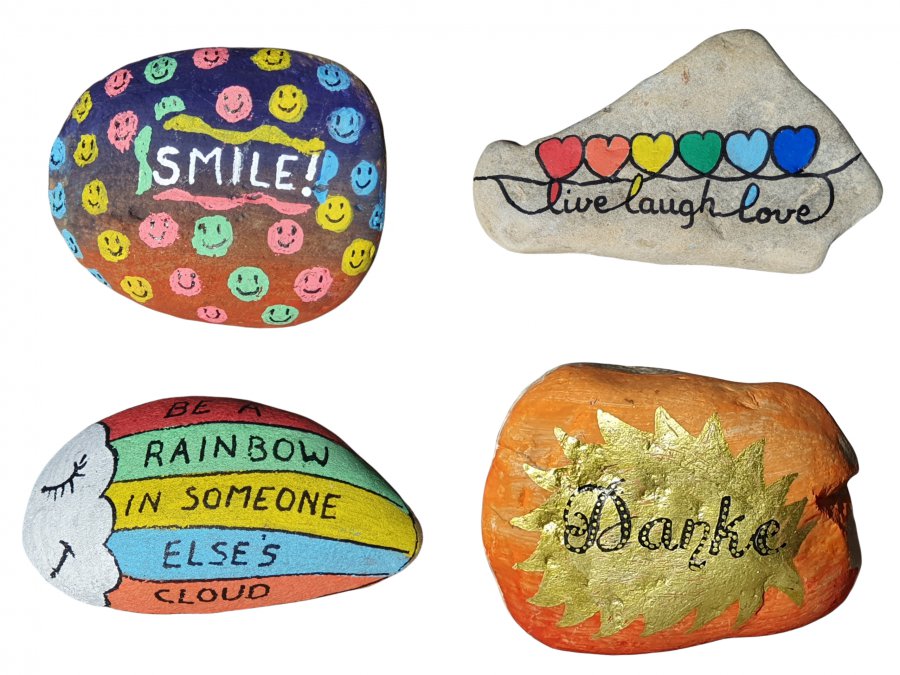 A kindness rock is simply a rock that someone has taken and decorated with an inspirational message. Here are some ideas to get you started for kindness rocks 🎁🎨🎁 !
Just a word :
Brave
Dream
Hope
Inspire
Kindness
Laugh
Love
Peace
Pray
Shine
Smile
Soar
Trust
Try
Short messages :
Be kind
Be the change
Be the light
Be positive
Be strong
Be You
Believe in yourself
Chase your dreams
Don't give up
Envoy life
Focus on the good
Follow your dream
Have a good  nice day
Have hope
Here comes the sun
I choose to be happy
I hope you are OK
Inspire Kindness
Inspire others
Intention over attention
Keep it kind
Kindness is key
Kindness matters
Kindness wins
Live Love Laugh
Love yourself
Never give up
Not all who wander are lost
Remember to smile
Stand up for yourself
Spread kindness
Spring into action
Stay positive !
Thank you
The world needs you
Think happy Be happy
Today is a gift
Trust the process
You are loved
You are not alone
You can do it
You matter 
You rock
You are amazing
You're beautiful
You're not alone

Inspirational msaesges
Be kind to yourself today
Be the energy you want to attract
Don' wait for the perfect moment. Take the moment and make it perfect.
If you don't like where you are, move. You are not a tree.
Now or Never. Decision is yours
Time nerver gonna wait for you... so get up and start run !
Use your smile to change the world, don't let the world change your smile
We fall. We learn and that's how we grow
Yesterday you said tomorrow. Just do it !
Your dream can never be list. Believe in the beauty of your dreams
Your idea can change the world
You also want to paint inspiring pebbles ?
In this website you will find everything you need to paint traveler rocks and have fun !
In the "How to play" tab, you will find :
- The principle of the game that describes the concept of this international game
- - The FbRocks advantage : tracking your rocks and your finds on a map , receiving mail or postcards from the finders, ...
- Facebook groups that take over the main facebook groups in the world
- Social networks that give interesting tips for using Fb-Rocks
In the "How to prepare my rock" tab, you will find :
- Step-by-step : main steps to paint a rock
- Painting supplies and equipment (acrylic paint, markers, varnishes) ;
- Tutorials to help you paint your rocks
Published : 2021-10-01