Social Networks
 
Sharing thumbnails
You just hid one of your great creations, and you want to share it with the world ? 
Nothing more simple, with Fb-rocks, you can share your rocks on your social networks, or simply by email by copying the link in your message !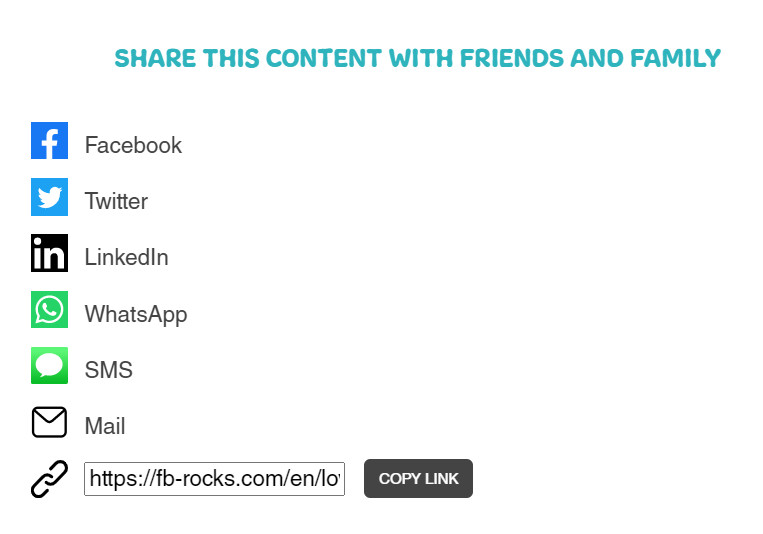 Facebook: never lose a rock again!
You are part of one or more Facebook groups of rocks / pebbles. Some groups are very dynamic, but it can be difficult to know if your rock has been found in the multitude of posts (some groups contain more than 1000 posts in a weekend !!!).
Idea : when you create a new publication to indicate that you have hidden a rock, just mention the Fb-rocks reference in your publication (ex: #65A2).
To follow your rock, just search for the Fb-rocks reference in Facebook search. You'll immediately see all the posts mentioning your "hashtag". 
Whatsapp: perfect for rock hunt
Whatsapp is perfect to create private groups, where only members can see the publications. 
During your rock hunt, but also between friends, family, colleagues... create a whatsapp group and share it with only the game participants or your friends. When you drop a rock, Fb-rocks offers you the possibility to share it on whatsapp.
By entering the Fb-rocks reference in this group, all participants will be immediately notified that one of your rocks has been found !

Create a shortcut on your smartphone
Access Fb-rocks.com with a simple "tap", like an app? It's possible !
1. Open the Google Chrome application
2. Go to Fb-rocks.com
3. Press the three small dots in the upper right corner
4. Select "Add to Home Screen."
Yes !!! You have created a shortcut that appears as an app on your mobile. So cool! 🥳🥳